So, me and my boys were planning to run in the early morning the other day. I set the alarm for 5 AM and I missed it. Let's just admit, we all have a habit of keeping too many alarms instead of directly setting one alarm. So, the first alarm rang perfectly. However, I somehow didn't listen to the next alarms. In simpler, the alarm volume automatically reduced. After researching, I came to know there are many people who are facing the same problems. So, here we are with Alarm volume automatically goes down fix. You can try this solution on any mobile phone.
Check other apps with access to ringtones
The first thing that you can do is to check other apps that have access to your ringtone. If you have another app for ringtone or any other similar things, you can try uninstalling those apps to see if it is the Alarm volume automatically goes down fix or not.
You might be increasing Media volume and
This is the one thing that you should keep in mind. When you hit the volume up button, by default, you will only increase the media volume. So, instead, you should go to settings and make sure the volume for the Alarm is up and full.
Using third party Alarm app
For the people who are using the third party alarm app, this type of issue is common. This might be because of your phone's settings stopping the app or simply because the app is not up to the mark. Therefore, you should keep a couple of things in your mind while using the third party app. The first one is to make sure you gave all the permissions it will need. The next thing is to make sure that the app is genuine. You can check the app review to know more about it.
Ultimate Solution for Alarm volume automatically goes down Fix
If none of these are working on your phone, this might be the ultimate solution that you can try. Just open your clock and go to Alarm settings. There you see an option called "Choose what volume buttons do" or something similar. You will see you have chosen to decrease the volume or mute the alarm. Just change the buttons to "Snooze" or "Nothing".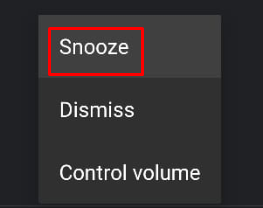 The main problem over here is when the alarm rings, you are in deep sleep. You might be hitting the volume button instead of hitting the snooze button. By default, the volume buttons will control the volume instead of turning it off or snoozing it. Therefore, you might be thinking the alarm volume reduced automatically. But in reality, you are the one who is doing it. So, make these changes and it will all fine.
And, if you are not getting proper sleep, you should try meditation. Here is a link to one of our posts: Best Meditation app for Mindfulness
Final words on Alarm volume automatically goes down Fix
To conclude, these are several ways to fix alarm volume automatically goes down. Do tell us in the comment section which is worked for you. Also, if you have any other method, do comment on it. We will be happy to include it in our blog.